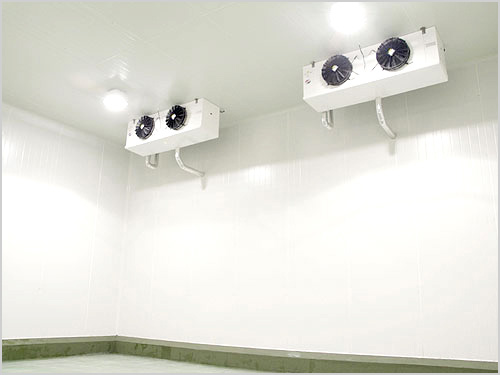 Square Panel System Co., Ltd. have been manufacturing cold room sandwich panel by using non-CFC polyurethane foam (PUF) as insulating core material which is non harmful to world environment. The panel offers several advantages over traditional polystyrene foam including great thermal resistance and increased efficiency. This means lower energy consumption for refrigeration unit. All parts are supplied in knock down condition.
Light weight
The Panels are made of rigid polyurethane foam (PUF) foamed in place as core material in between colored steel sheet (Thickness 0.45 mm. BMT) giving high strength to weight ratio and reducing structure requirement for building
Door with safety device available
Door latch is designed with an inside safety release feature that guarantees immediate release from inside the cold storage room in case of emergency even though the door is locked on the outside.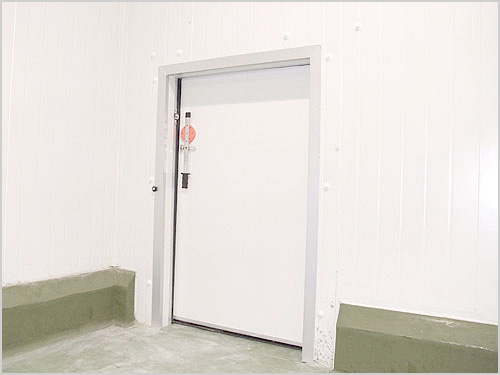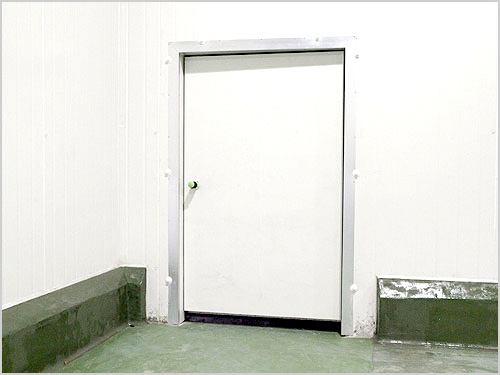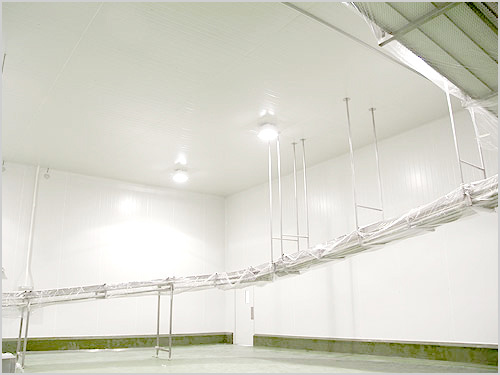 Durable, corrosion protected surface
Finished surface of panels is double paint coating on galvanized steel sheet. The panels can resist corrosion even wet, high moisture working environment. Off white is normal standard color. Other colors and materials are also available upon special application for instance 304 stainless steel
No Condensation at joint
All panel joints of wall, ceiling and floor shall be specially designed tongue – in – groove sleeve. This sleeve joint is fully aligned precision – made panel connection system, allowing virtually 100% insulation to insulation contact, leaving no gaps in between in order to avoid condensation. The sleeve shall be secured with engineering plastic locking cam so-called CAMLOCK. CAMLOCK shall consist of a cam action hook locking arm placed in one panel and a pin precisely positioned in the adjoining panel, so that by rotating the locking arm, the hook shall engage over the pin and with cam action, draws the panel tightly together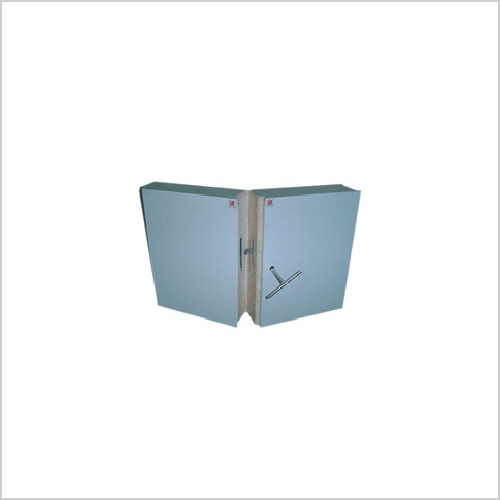 Easier and less installation time
All parts are factory prefabricated in knock down condition and ready to assemble at site therefore reduces installation time significantly.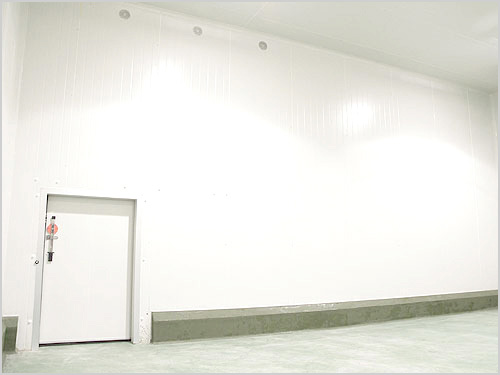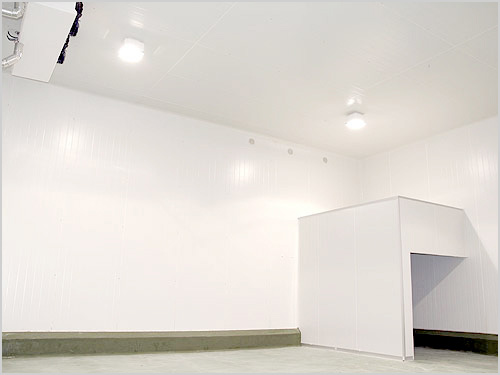 Comply to GMP Standard
All interior room corners shall be finished with PVC cover. Food grade, USDA standard coating color is available for food products.
Industrial Applications
Refrigeration Warehouse
Food Processing Facilities
Cold Storage Facilities
Food Distribution
Ice Plants
Blast and Spiral Freezers
Commercial Applications
Restaurants
Supermarkets
Convenience Stores
Bakery
Floral
Catering
Table of Specification
Polydure 5000 USDA, off white color, food grade color coating.
Characteristic
The coatings are for application to structural surface where there is a possibility of incidental contact with food.
The coatings are not to contain any hazardous substances, heavy metals or other toxic substances
Suitable for use in the interior panel surface where USDA standard is required
Advantage of Polyurethane Panels
Properties
Polyurethane Foam
Polystyrene Foam
Thermal Conductivity (VV/m.°C)
0.015
0.029
Heat Transfer Coefficient
(at 50 mm.thk) (Kcal/m2.hr.°C)
0.352
0.674
Max. working Temp (°C)
120
80
Flammability
Self extinguishable
Flammable
Panel Thickness
Two times less
Two times more
Moisture Deterioration
No
Likely
Heat Transfer Coefficient at Different Thickness
Panel Thickness
(mm.)
Heat Transfer
Coefficient K
(Kcal/m2.hr.°C)
Cold Storage room
Temp (°C)
Thickness (mm.) If
Polystyrene foam
Panel
50
0.352
0 < temp
100
75
0.235
-10<temp<0
150
100
0.176
-20 < temp < -10
200
125
0.141
-30 < temp < -20
250
150
0.117
-40 < temp < -30
300
Cold Room Door
Standard doors are available with two standard widths 900 and 1200 mm. for both Swing and Sliding door. Doors are designed and constructed for heavy - duty use. All doors with 100-mm or thicker shall be equipped with heater being concealed in the section of doorframe in order to prevent condensation and freezing.

Variety of door opening size can be provided depending upon customers' requirement. A Transparent PVC strip curtain, floor heater, automatic sliding door shall be provided as an option.