SQUAREACOUSTIC™ Sandwich Panel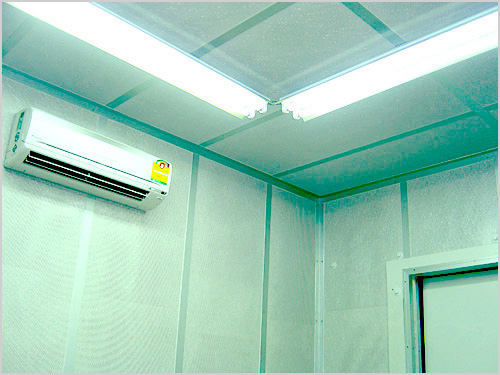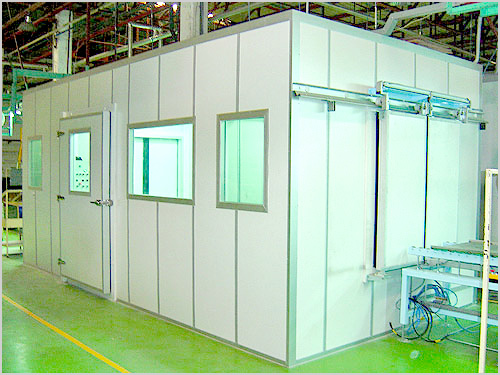 Application area
Acoustic panels are developed for internal walls and ceilings in industrial applications, where special sound insulation or sound absorption is needed. In industrial facilities especially the noise level from machinery can rise so high that it effects working convenience and can even cause hearing damage if precautions are not taken. The most reasonable way to solve the problem is to separate people from the machinery by building sound insulated machine rooms or acoustic screens.

Physical Information
Acoustic panels have perforated surface on one side providing better sound absorption.
Core Thickness: 50, 100mm
(Other thicknesses are available upon request)
Maximum panel size: (W) 1,125 x (L) 6,000 mm.

Acoustic Performance
Acoustic panel works in two distinct ways to reduce noise, by impeding the transmission of sound through an element of structure and by absorption of sound at the surface. The noise absorption co-efficient is expressed as a factor. The more sound that material can absorb, the higher noise absorption co-efficient will be.
Acoustic Performance
2"THICK PANELS
4"THICK PANELS
OCTAVE BAND
MID. FREQ. (Hz)
ABSORPTION COEFFICIENT
TRASMISSION LOSS
ABSORPTION COEFFICIENT
TRANSMISSION LOSS
2
125
0.24
17
0.66
21
3
250
0.74
24
1.22
33
4
500
1.08
32
1.12
43
5
1000
1.09
42
1.06
54
6
2000
1.01
50
1.03
57
7
4000
0.96
53
0.96
62
Noise absorption co-efficient tested in accordance with ASTM C423-84A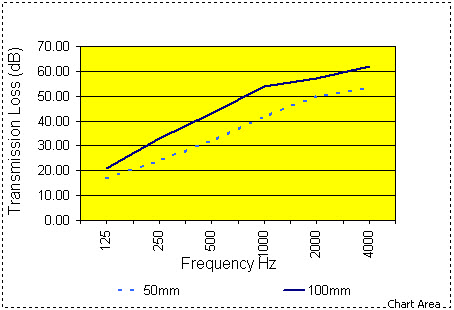 Noise transmission loss tested in accordance with ASTM-E90
Installation
Installation Guidelines
Square Panel System have many years experience manufacturing and supplying acoustic panels, and often the site limitations or restrictions require a non-standard means of erection of panels to be developed. However typical erections are followings.

Wall
Panel to panel will be connected by screwing tongue & groove steel profile section and concealing it by PVC capping stripe. The wall panels are erected in aluminum U-channel being fixed with anchor bolt to the floor

Ceiling
Ceiling panels will rest on aluminum ceiling beam hanging from above building structure. Panel to panel connecting is same as wall